Perspective Press Release
For Immediate Release (470 Word eBook Review Article)
Contact: Pete Howells via PeteHowells@PenSup.co.uk
Perspective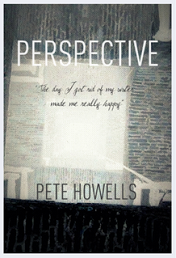 An eBook by Pete Howells
"The night of your mother's funeral is a good night to cut your sister up."
He has never known his father, and his mother finds life difficult. For reasons he can't fathom, his big sister, Abigail, seems to hate him…David Kidman is a boy eager to please and desperate to be loved. He knows he doesn't fit in but he doesn't know why. He can't read or write, so can't adequately express his feelings. Everything he gets involved in seems to turn bad… Ironically, it is only when he reaches the end of a lengthy prison sentence that he is able to make any real sense of the disturbing world inside his head and discover truths long buried; truths that are revealed through his bourgeoning literacy and a whole series of his 'imaginings'.
'…but as for 'Perspective' we just couldn't see it at first. He gave us a pencil, ruler and a sheet of A4 paper whilst he demonstrated the basics of the Vanishing Point. I liked the sound of it. As he spoke it began to make sense.
The idea of something 'Appearing to Disappear' still fascinates me to this day. Putting things into perspective and realising that there can be more than one point at which everything could potentially vanish, or even come together, can be a comfort both visually and emotionally when you are banged up like a pygmy.'
'I felt good, and big, and loved, and important; and I looked up, through the windscreen, to As Far As The Eye Could See.
I had done this before with my dad.
As Far as The Eye Can See.'
David Kidman becomes Emotionally Literate. We just hope it will see him through the rest of his life.
"This is an excellent novel: well-written, tense and fast-moving, with all the page-turning qualities you expect from a psychological thriller."
Patrick Janson-Smith, Publisher, Harper Collins (Blue Door Imprint)
Patrick represented Pete Howells through the Christopher Little Agency. In July 2008, Patrick added to his prestigious career by launching the Blue Door Imprint for Harper Collins.
Pete Howells has taught part-time in a West Yorkshire prison, and worked with teenagers with emotional, behavioural and social difficulties. He has taught Art & English to GCSE and A level. He has also been a singer-songwriter, supporting acts as diverse as Brand New Heavies, Osibisa, Desmond Dekker and Courtney Pine. He lives in Brighton and is at work on his fourth novel.
Pete is available for interview by arrangement. Review copies of the book are available upon request.
Book Launch – 18th Sept 2011, 5-6.30 pm @ The Old Market Arts Centre, 11a Upper Market Street, Hove, BN3 1AS. To include short readings plus Questions & Answers by the Author.
Listen to an extract: http://www.tinyurl.com/perspective2011
PenSup / eBook
ISBN 978-0-9569792-0-9